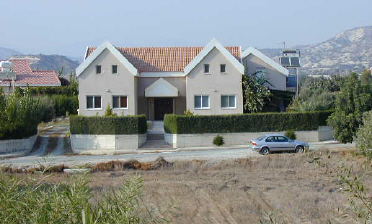 The House
It was built in 1997, a four year old detached 4 bedroom twin gabled style with a garden in a very convenient area near Limassol , ready for expansion to another floor in the loft area.
The house has extensive grounds by Cypriot standards. There is a driveway which leads to covered parking at the back of the house.
Large sitting room and dining room. The kitchen has plenty of cupboard space.
The bedrooms are all off a hallway,
there is a bathroom with bath/shower, vanity sink and W.C.
There is also a separate cloakroom near the front door.
Measurements Living room 6m x 5.7m
Kitchen 2.7m x 7m
Dining room 4.85 m x 3.8m
Bedroom 1 4.8m x 5m
Bedroom 2 3.5m x 3.8m
Bedroom 3 4.9m x 3.6m
Bedroom 4 4.75m x 3.2m
Kitchenette/Breakfast room 5 x 3.2m
This is a pleasant home in a nice area on the outskirts of Limassol, not too far from the beach. The airport is conveniently located about 25 mins drive away.
There is central heating and some air conditioning.
Price Cú300,000
Withdrawn