LARGE 5 BEDROOM HOUSE IN KAPSALOS, LIMASSOL.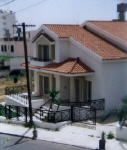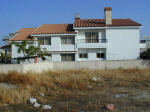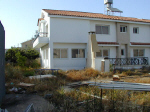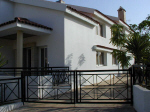 FRONT DOOR OPENS TO HALLWAY/SITTING AREA. LARGE LIVING & LARGE DINING ROOM PLUS LARGE CONCRETE STAIR CASE.

Living room 8.6m x 9.4m

TWO KITCHENS WITH UNITS ONE WITH DINING ROOM,
GAMES ROOM, PLUS WC.

Kitchen 1 5.4m x 5m
Kitchen 2 2.3m x 2.3m
Dining room 4.2m x 7m
Small store 1.8m x 1.8m

UPSTAIRS BEDROOMS - MASTER BEDROOM WITH WALK IN WARDROBES & BATH EN SUITE AND VERANDA
Bedroom 4.8m x 4m
Walk in wardrobe 2.3m x 1.6m
en-suite 1.7m x 3.3m


GUEST ROOM WITH SHOWER EN SUITE,
Bedroom 3.6m x 3.4m

PLUS THREE FURTHER BEDROOMS ALL WITH BUILT IN WARDROBES AND VERANDHAS,
Bedroom 3 3.5m x 3.4m
Bedroom 4 3.3m x 3.8m
Bedroom 5 3.4m x 3.6m
Bathroom 2.9m x 2.2m

FRONT AND BACK GARDENS,
LARGE FRONT PATIO AREA,
LARGE SIDE PATIO WITH BUILT IN BBQ
NOT LIVED IN EXCEPT FOR HOLIDAYS ONCE A YEAR .