Apartments for sale in Larnaca centre Sold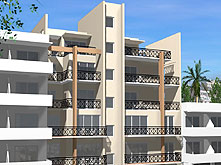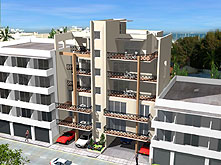 Larnaca with the traditional 'Palm Tree' is situated on the northeast of the island of Cyprus. Larnaca is the successor of the ancient Kition, one of the ancient kingdoms of Cyprus. A walk on the 'Palm Tree' beach is worthwhile. Beaches are awarded the Blue Flag award by the European Union. Walking on the Marina you can see the tall palm trees which are the trademark of the town. Further down we see the Larnaca Fort which is now an archaeological museum. Worth seeing is also the Church of Saint Lazaros, (One of the most famous samples of the Byzantine architecture in Cyprus), the Pierides Cultural Museum with a distinguished private collection of Cyprus antiquities, and the laiki Yitonia where visitors can see the architecture of old Larnaca. The project is located in the heart of Larnaka town 50 meters walking distance from the famous beach front of Phinikoudes (Palm Tree Front). The project consists of 11 properties of 2 and 3 bedrooms apartments.
The absolute commitment to the construction of the project from the architectural plans to completion, the interest toward the client even after the purchase, the use of superior quality construction materials compatible with the Mediterranean climate of Cyprus, the absolute, guaranteed title deeds and the easy payment made our Company trustworthy to the public of Cyprus and abroad. A golden seal on each and every property shows the quality and superiority in innovation and respect to the environment of all our properties.
Sold
Please contact us here
Back To Property For Sale List Home